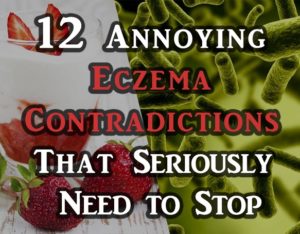 Ask any Hong Kongese, they'll gag-reflex you with "eczema is caused by excess humidity!"
Ask an Australian, it's the heat. Scandinavian, sunlight deficiency.
Yes, stereotypes. Since we don't know too much, might as well believe "what they say" – right?
Junky eBooks, media and unsupported opinions often anchor some one particular chemical, GMO, or quote, and branch off simple questions into contradictory answers resulting in: divided beliefs.
Ban sugar but what about fruit sugar?
Eat fermented vegetables but don't kimchi have nightshades?
Cut lactose but probiotic yoghurt?
Too many 'truths' today. Let me clarify them for you.
Continue reading 12 Annoying Eczema Contradictions That Seriously Need to Stop →