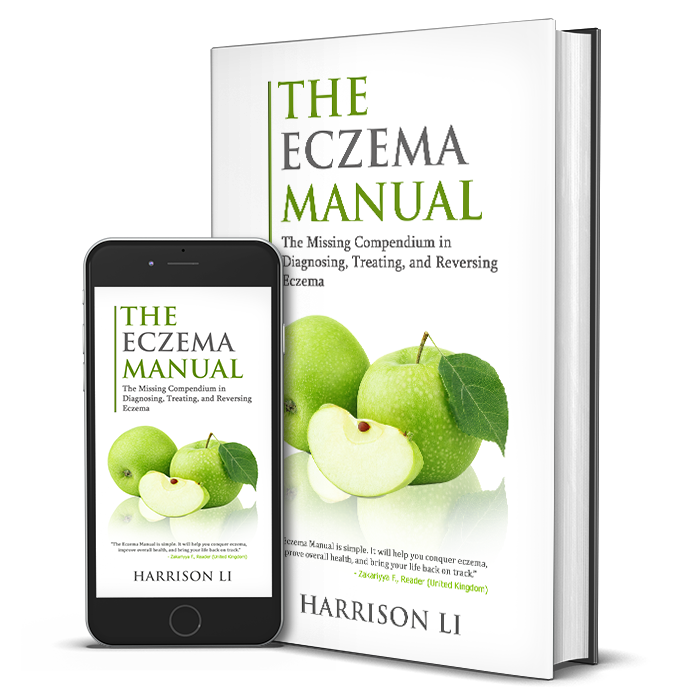 Finally… an actionable eczema elimination guide exists!
I wrote this guide because I wish it had existed when I was digging through my skin during midnights when I was young. Nobody deserves to suffer from this debilitating disease.
Getting rid of eczema is not easy…
(But I have the knowledge and experience.)
I want to help you or your close ones do it too.
That's my life mission. Now it's your turn.
How will The Eczema Manual help you?
I've structured the content in the most logical fashion and simple-to-follow language possible.
A more detailed Introduction to my struggle with eczema.
A big picture view of phases people go through in eczema — The Vicious Eczema Cycle.
Rethinking Eczema: a compact summary of evidence-based reasons into why the conventional strategy to eczema doesn't work (Yes, steroids. But there's more.) 
A twenty-principle (each principle is a few pages long) for the Gut-skin Connection — a detailed go-through of how everything you hear about gut health that is relevant to eczema elimination (e.g. leaky gut, microflora imbalance, what foods are potential triggers, what silent foods are dangerous, etc.)
A five-principle Liver-skin Connection — a debunk of how many common yet unknown controversial concepts relating to "detox" need to be re-understood because it's all buried in the grey area of evidence and fad.
A four-principle The Stress Complex — you will find how the body is inextricably complex and amazing. Dietary factors are only one part of the equation in reversing eczema. Multiple non-dietary factors play equally important roles for reversing this autoimmune disease.
Actionable and simplified three-page summaries of each of the above three core sections of this manual (gut, liver, stress).
The Healing Protocol: for those who prefer to skip the talk even though my compendium is already greatly simplified (but eczema is a big subject). This section is about ACTION. It is designed to get you started, like how to have good nutrition during and after your eczema recovery, how long you need to recover, a sample schedule, age-specific treatments (e.g. for toddlers or for adults?) and a nice progress checklist to keep you asking the right questions.
A 14-point Resources section. Here you find all the essential lists you ever need to eliminate eczema with. Nothing more. Nothing less. What to eat at each stage of dieting (highly restrictive, lightly restrictive, gradual reintroductions)? What to avoid for optimal recovery? What you can eat more to boost recovery?
FAQs. Of course, we all have questions. If unanswered, email me.
For the science-savvy: References — this is the section where I spent hours and hours reading through and consolidating evidence-based research to support all the actionable recommendations in The Eczema Manual. A big thanks to all these amazing and hardworking scientists around the world.
Actionable, concise, evidence — these are the words best describe The Eczema Manual.
(Hey, it's an acronym for A-C-E.)
What Do Other Readers Say?
I first met Harrison online because I was looking for helpful resources to relieve me from a severe eczema breakout. Doctors and herbalists couldn't help me as my condition just kept getting worse that I almost stopped schooling and came close to being bedridden. It was only until I came upon Harrison's website that I found true knowledge on how to keep eczema under control. Since then, I've been following his advise and I've never had my eczema come back again. It was such good news to hear Harrison's insights being immortalized in a book. I'm sure this will prove helpful to not just victims of eczema – but of other conditions as well – just like how it was to me. Thanks a lot, Harrison! – Mary J. T. (Reader)
Before I found your blog, I went through some blogs with eczema stories but all ended up only trying to sell their books about Paleo Diet. I was so glad to finally found your blog, I found it simple, open and to the point. I wrote this to say thank you for your work. – Gabriella (Reader)
Thanks man your a good person for doing this, I'm going through a bad flare up on my face right now, had to leave the university and everything, its been a long and depressing year, it came from no where, but I just found out about these diets and I've been on the strict diet for a week, my face went through that terrible phase of getting worse, but I know its normal, but hopefully this thing will get cured, but I promised myself if I get cured by doing this diet, I'm going to dedicate my life to help people who have skin problems, its just nice to see someone out there doing the same, good stuff man. – Jonathan (Reader)
I am so glad to find your blog. I have a 14 year old son who is currently undergoing extreme eczema pain… It would be really encouraging to show him your videos and let him know that there is hope and anyone, just anyone just him can suffer eczema. His is more of a congenital issue, we all know… Thanks a lot for sharing your experience and knowledge here. Unlike all other websites who focused on selling the books, you meant well to impart what you have gone through. – Lim Mun Yee (Reader)
Thanks so much for taking the time to write this, and to gather all this information. I have been suffering from Eczema for most of my life – I am currently 23 years old and suffer from it. I am originally from Australia and recently moved to L.A to pursue acting, and since I've been here my skin has gotten worse and worse. I think possibly due to the weather, moving out of home so learning how to cook and feed myself correctly, as well as increased stress and lack of sleep from dealing with every day life and auditions. I have been following your blog for the past few months, and I have taken bits and pieces from it when really helped. But as soon as I started reading your book I got goosebumps – I finally felt like this was the answer I had been looking for. In the past 3 months alone since it is now Summer I have taken 2 steroid shots and 3 rounds of steroid tablets since I have had so many flare ups, but I finally feel confident that with the advice and information in this book, that I can now maintain and hopefully completely rid myself of my eczema forever! I would highly recommend this book to everyone with eczema, as it truly contains all the information that if you follow it, it will really help your journey towards being eczema free forever! Thanks for being a messenger and bringing this information to the rest of the world! – Emily C. (Reader)
Frequently Asked Questions
1. Does a cure for eczema exist?
If a cure means eliminating eczema symptoms like dry, itchy, cracked skin, up to the extent another person cannot identify you with eczema, then YES.
Drug-free solutions exist in the 21st century.
2. How long does it take to recover?
Depends on history of medicals, your current level of damage with eczema, and your effort of changing lifestyle habits. In general, three to nine months to eliminate 90% of your eczema.
(For reference: I spent three months in 2013.)
3. Why do I need your book?
Because I was in your position since 6 years old.
I've read through all the crap online that doesn't work e.g. new trendy diets, superfoods, revolutionary supplements.
I've been to numerous doctors, dermatologists, Chinese herbalists.
I've tried numerous of lotions, creams, steroids, bathing solutions.
I fill the gaps on existing books out there. (There are only a few credible eczema advocates online.)
This book is designed to save you time because simply, there is no point to reinvent the wheel.
If you discover my book is of low-value, consider the effort I spent since high school in 2013, until the time in University, the time I sacrificed in the library to craft this piece, a joke. I'll gladly refund the book to you. It's best if you do an open video critique too.
4. Why should I believe The Eczema Manual?
Because it works.
This book is an accumulation of first-hand experience, trial and error, email changes with hundreds of patients worldwide, Chinese and Western medicine, and reading and digging through evidence-based research.
And then I compile all of the essential insights into actionable key points into a manual as if I could give it to my younger self when I first had eczema at 6 years old.
5. Why did you write this book?
Eczema affects up to 250 million people worldwide today, plus undocumented cases. Since the first use of steroid therapy as the first line of treatment for eczema in the 1950s in the United Kingdom, the solution remains unchanged until today in 2017.
Yet, an increasing number of people are diagnosed with eczema in both developing and developed countries.
Sometimes, ineffective solutions don't need 67 years to tell you it's not working.
6. Where does the money go?
Pay all the operational expenses running this website I owe my aunt since 2013.
Sponsor hard copies to my 100 giveaway subscribers.
Translate the Manual into China. (I reside in Hong Kong, and I know first-hand eczema affects the East as much as the West.)
Develop an even easier version to manage our dietary and non-dietary factors, using robo-advising technology on a mobile app, to guide all future patients from day one to eczema elimination.
Keep pushing global eczema elimination.
(Email me if you have ideas.)