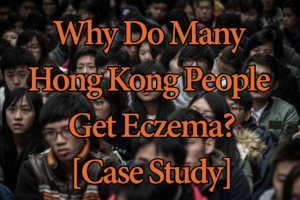 Unlike other posts I write, this will specifically analyze why Hong Kong in particular is a breeding ground for eczema victims.
It is well-known that allergic diseases are highly common in the Hong Kong population i.e. eczema, food allergies, hay fever, and asthma – AKA the Atopic March.
A first-ever nation-wide research in 2016 also shows the prevalence of eczema is rising in most parts of China, including Hong Kong, where eczema is catching up with developed nations like the UK, known for its notoriously high rates of eczema.
But what exactly is causing the surge of eczema?
Here I analyze on dietary habits, stress, exercise, sleep, and environmental factors of Hong Kong people. Finally, typical local mindsets and misconceptions of eczema.
Note: Even if you do not come from Hong Kong, I'm sure the examples will give you a heads up on what to watch out for! Continue reading Why Do Many Hong Kong People Get Eczema? [Case Study] →