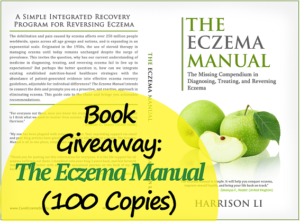 If you're interested in getting free early access to The Eczema Manual… you' re at the right place.
The official launch date is September 1st, 2017.
But before that, I would like to offer some of my existing readers, or even new readers, to join the giveaway event. As soon as 100 digital copies are filled, the giveaway ends.
(People who didn't make it on time can still get opt for the launch discount on Sept 1.)
Personally, this is a prelude to the book launch, which will be the BIGGEST event in my life so far. And I want you to be part of the excitement. It's not about me, but YOU. It's about people in the world who need actionable information on eliminating eczema. Parents of newborns with infant eczema, teenagers, twenty year-olds, and anyone else beyond.
And if you happen to spot typos or any room for improvement, do let me know! Continue reading Book Giveaway: The Eczema Manual (100 Copies) →