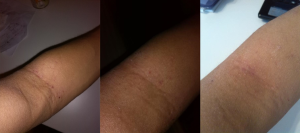 I got eczema again.
This summer, I finally have time to fix it.
And I did.
Actually, I cured my eczema last summer that I've had for 10 years by following that highly restricted diet.
And so to say, I want to help as much people as I can. Because I know it works.
Of course, you'd want to follow the advice of an ex-sufferer who's eczema never came back. Sorry to disappoint you but I cannot be that perfect role model. In fact, I've made quite a lot of mistakes in treating my eczema.
Today, I want to talk about several things:
Why eczema has the ability to "come back".
Being eczema-prone.
How I got eczema again and cured it this summer (happening as I write).
How I greatly sped up my recovery time.
Why I'm using a modified diet this time instead of being highly restricted.
Why this is important to you as a warning sign.
And some pictures of what I eat these days.
Continue reading How I Got Eczema Again and Cured It Again (And What This Means For You) →