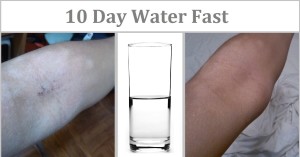 I water fasted 3 days last year. Results? Not too exciting.
They say… persistence is key.
So I didn't eat for 10 days straight this month. Just water and rest.
Unlike last time, this fast showed much more noticeable changes, especially that it fixed my digestion. Good news for eczema sufferers is – if you fast for 10 days, I guarantee your itches will be next to zero.
Key points:
How and Why Fasting Removes Eczema
Why did I fast?
My 10-Day Water Fasting Daily Journals (with pictures)
Chronic Constipation Gone!
Fasting Pros & Cons
How to Water Fast (in 200 words)
Special Note to Eczema Sufferers
Fasten up! (Sorry) Continue reading 10 Day Water Fast (Again. Because it works.) →