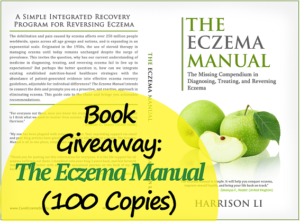 If you're interested in getting free early access to The Eczema Manual… you' re at the right place.
The official launch date is September 1st, 2017.
But before that, I would like to offer some of my existing readers, or even new readers, to join the giveaway event. As soon as 100 digital copies are filled, the giveaway ends.
(People who didn't make it on time can still get opt for the launch discount on Sept 1.)
Personally, this is a prelude to the book launch, which will be the BIGGEST event in my life so far. And I want you to be part of the excitement. It's not about me, but YOU. It's about people in the world who need actionable information on eliminating eczema. Parents of newborns with infant eczema, teenagers, twenty year-olds, and anyone else beyond.
And if you happen to spot typos or any room for improvement, do let me know!
A Little Self Introduction
I developed eczema since 6 years old.
For the next decade, in primary school, high school, and to a tiny extent during University, I've suffered varying degrees of full-body eczema.
Life is absolutely not easy when you live with skin that you uncontrollably destroy day and night.
Like you, or your loved one, may have probably tried multiple strategies to get rid of the eczema: general doctor, skin specialists (dermatologists), Chinese herbal medicine practitioners, and a plethora of steroid creams, moisturizers, and skin care products.
You don't need anyone to convince you… these products and solutions come with good intentions BUT they fail.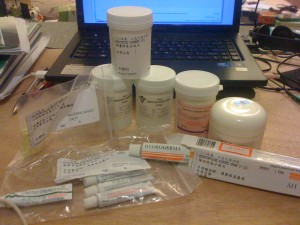 In those ten years from when I first developed eczema as a child, until 2013, I've continuously experimented with different eczema treatments. Sometimes, they work. Sometimes, they make things worse and usually more complicated.
But in 2013, I spent my three-month summer holiday to make some serious changes. Because I believed even when doctors cannot help you, or the encouragement from your family with good intentions can't help you, the only way out is to seek the answers by yourself. I began researching online to dig out every possible solution for eczema.
No, I did not find a magic formula or secret remedy. But I did notice and begin to pick up common patterns and recommendations from successful ex-patients and combined them together.
I had discovered an integrated evidence-based approach using nutrition strategies to reverse eczema. It works for many people.
The Reason Why I Wrote This Book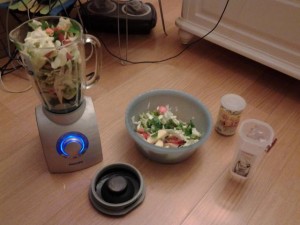 Ever since 2013 when my recovery plan succeeded, I re-gained my quality of life and no longer had to rely on creams, drugs, or heavy restrictions to live a normal life.
"If one day, I no longer had eczema, I would help everyone in the world to do the same." If you've ever suffered from eczema, I'm sure you can resonate with me.
But inaction is our biggest enemy.
There are over 250 million people in the world with eczema, I alone cannot help the world. There are NOT many people in the world who have the resources and knowledge and have actually eliminated eczema. This is why I created an online resource in the summer of 2013 called Cure Eczema Slowly – named this way because actual long-lived recovery takes time, patience, and effort.
Since recovery, I've been helping people from all over the world to eliminate their eczema with personalized and specific advice I've gathered from years of experience and from patients.
But there seems to be much more people with eczema than those who can help. This is why my next step (right now) is to publish everything essential on eczema elimination through a book that can answer more questions with less time.
This book is an accumulation of years of experience dealing with eczema, what worked and what failed, the written and unwritten rules. The book will only lay out essential insights for a new patient to diagnose, treat, and reverse eczema. It highly emphasizes on offering actionable recommendations.
I believe raising public awareness through educational talks and workshops is the future direction after the book (but that's another story, on my bucket list though!).
What's Inside The Eczema Manual?
There is a lot of junk and conflicting advice on nutrition and eliminating eczema out there. I understand how frustrating and confusing it is to dig through the clutter and find the key insights and actionable steps to use immediately.
Inside the book you'll discover:
How to spot and escape from the Vicious Eczema Cycle
5 conventional eczema misconceptions to rethink on
What specific types of gut-irritating food to avoid
What natural nutrients are needed to boost recovery
How to clear up the misconceptions of "detoxification"
Why steroid therapy is fundamentally wrong
The three pillars of good nutrition, for pre- and post-recovery
14 lists of key printables (like the master diet) to stick on your wall
This book is written in a concise and easy to digest manner. Everything is packed with actionable steps. All important claims are referenced and supported by scientific literature.
How To Enter The Giveaway (100 Copies Available)
My primary motivation is to spread the message about eczema elimination in the world. Basically all the money earned will be used to pay for all the website hosting and email service expenses accumulated since 2013, and for the future. Any remaining is to advance my next steps of the mission to reduce global eczema prevalence. That could be talks, developing a diet app that makes planning your meals much easier, and tracking eczema management progress. (Doesn't that sound exciting and useful?)
Here's how to enter the giveaway for a free digital copy of The Eczema Manual.
Share your one best tip in managing eczema flare-ups in the comments below.
Share any Cure Eczema Slowly article you think can benefit others on Facebook. (Let me know by tagging "@Cure Eczema Slowly").
After reading the book, email me some brief feedback/testimonial of any length before Sept 1. (People who are considering the book can be more informed, and also I can make edits because I'm sure there is plenty of room for improvement).
Please be as open as possible on the feedback because I'll be most glad to receive constructive points to make edits! I'm sure I have many blind spots while writing this. Be as critical as you like. I will probably post all 100 reviews on one page in the future to reduce bias.
Click here to fill in the Google Form.
That's it! Hope I'm not asking too much. My goal is really to help as many people as possible.
It's first-come, first-served. As soon as 100 spots are filled, I will close the Google Form and email you the download link. The email address collected will ONLY be used regarding the giveaway.
A Few Quick Thoughts
Apart from the giveaway and book launch…
The website will soon have a redesign. Stay tuned!
New email subscribers will soon receive a series of follow-ups of eczema elimination tips. Clearer and more on-point.
I would really appreciate if you could share Cure Eczema Slowly to anyone you know, friends or colleagues, who could potentially benefit from this site's content. I spent many hours writing tips for eczema, and the only goal is to eliminate them one person at a time. You never know how much it could change their lives!
As usual, always welcome to any thoughts in the comments below!