The Eczema Manual is NOW LAUNCHED!
Hello my Dear reader on your digital device screen.
Before you close the tab in 2 seconds, let me say: this article is a result of 14 years of dealing with the torturing autoimmune disease called eczema.
This article is the most significant piece of writing I have ever done, and it will be as important for you, as an eczema sufferer or as a parent or close friend of an eczema patient — and that is if you want to reverse eczema — because there is a solution.
But here's a disclaimer.
I'm not going to make this page any longer than it needs to drive sales.
I'm not going to give you an emotional, sad, pitiful story to engage your ethos.
Here's the important 5-point summary instead:
I suffered from atopic dermatitis (eczema) since 6. Ever since I've tested numerous physicians, skin specialists, Chinese medicine practitioners, multiple skincare "revolutionary" and health products. As you expected, nothing really fully worked.

In 2013 after deeply digging through the internet, I began to notice common patterns on what many anecdotal ex-patients of eczema did, how different working diets actually are based in the same principles backed by nutritional science and evidence-based research… I gave it a shot, and it worked!
Ever since I discovered reversing eczema is POSSIBLE, I established an online resource called CureEczemaSlowly.com named after what I believe is the most accurate thing to portray: healing eczema takes patience and commitment and needs to be done systematically and slowly!
I was glad many people approached me for eczema advice. Of course, I offered everything to the best of my ability within what I learned. But you see, I couldn't keep up to half a million visitors since 2013. We all have 24 hours a day and there's no way I can answer hundreds of emails (I want to help my readers don't get me wrong), especially since there are 250 million eczema patients worldwide today.
4 years later until today in 2017, on and off trying to consolidate everything essential eczema sufferers should and need to know to eliminate eczema from zero to one, into one book called The Eczema Manual. I've been there. Done that. Clawed into my skin at 3 am. Scratched in public at any time possible. Had stains over my white clothes. And I know exactly how much incomplete and inaccurate information there is online growing each day. That's why I've created a compendium (concise but complete) to document everything you need to fix this disease.
And I'm glad I can finally serve you. Whether you've been a subscriber for a few years, or just subscribed. Or first time here.
My goal is not to sell you my book after asking for your email in exchange for a freemium eBook.
My goal is to have you unsubscribe as soon as possible (say within a year) otherwise I would've failed you trying to eliminate your eczema case.
If you know me well, or by now reading this page, I'm extremely down to earth. I basically talk to you through the screen.
Let's cut to the chase: this website has two pathways.
Send me your email address via any sign-up form you see (e.g. the annoying pop-up you closed earlier), and I will email you trimmed down versions of actionable eczema content to get you started on eliminating eczema over 28 days.
Skip the wait, get to the point, and get the compendium I have crafted for you.
How will The Eczema Manual help you?
I've structured the content in the most logical fashion and simple-to-follow language possible.
A more detailed Introduction to my struggle with eczema.
A big picture view of phases people go through in eczema — The Vicious Eczema Cycle.
Rethinking Eczema: a compact summary of evidence-based reasons into why the conventional strategy to eczema doesn't work (Yes, steroids. But there's more.) 
A twenty-principle (each principle is a few pages long) for the Gut-skin Connection — a detailed go-through of how everything you hear about gut health that is relevant to eczema elimination (e.g. leaky gut, microflora imbalance, what foods are potential triggers, what silent foods are dangerous, etc.)
A five-principle Liver-skin Connection — a debunk of how many common yet unknown controversial concepts relating to "detox" need to be re-understood because it's all buried in the grey area of evidence and fad.
A four-principle The Stress Complex — you will find how the body is inextricably complex and amazing. Dietary factors are only one part of the equation in reversing eczema. Multiple non-dietary factors play equally important roles for reversing this autoimmune disease.
Actionable and simplified three-page summaries of each of the above three core sections of this manual (gut, liver, stress).
The Healing Protocol: for those who prefer to skip the talk even though my compendium is already greatly simplified (but eczema is a big subject). This section is about ACTION. It is designed to get you started, like how to have good nutrition during and after your eczema recovery, how long you need to recover, a sample schedule, age-specific treatments (e.g. for toddlers or for adults?) and a nice progress checklist to keep you asking the right questions.
A 14-point Resources section. Here you find all the essential lists you ever need to eliminate eczema with. Nothing more. Nothing less. What to eat at each stage of dieting (highly restrictive, lightly restrictive, gradual reintroductions)? What to avoid for optimal recovery? What you can eat more to boost recovery?
FAQs. Of course, we all have questions. If unanswered, email me.
For the science-savvy: References — this is the section where I spent hours and hours reading through and consolidating evidence-based research to support all the actionable recommendations in The Eczema Manual. A big thanks to all these amazing and hardworking scientists around the world.
Actionable, concise, evidence — these are the words best describe The Eczema Manual. (Hey, it's an acronym for A-C-E.)
I've also received a good amount of feedback to my next revision. We are all connected these days, just email me and let me know how I can improve the manual for you and for everyone else.
Have I offered you a reason to forego the Compendium?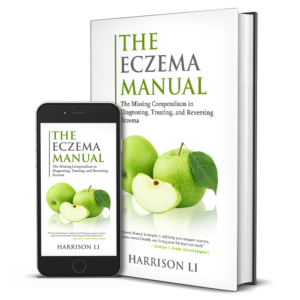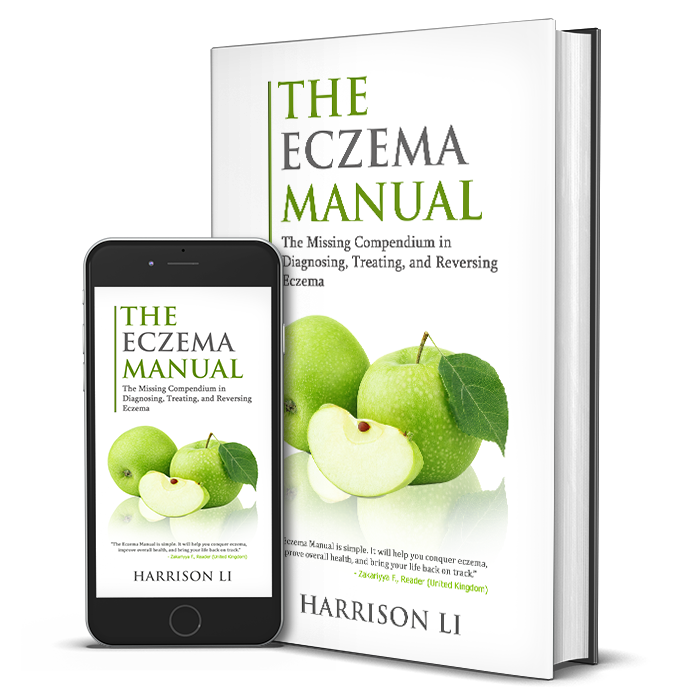 As I've told many people, you don't need to pay much to reverse eczema.
The only things you need to buy is real food, perhaps some skincare products based on natural ingredients to relieve your itches during recovery, and the knowledge of what to eat.
The compendium offers you the hundreds of hours saved on experimenting different eczema solutions purported online and offline, saves you or your child pain from flare-ups, and gives you all the value you need to get started from zero to one.
No. I'm not going to play with numbers and tell you to skip a few Starbucks coffee to get this book for $24.99.
Cure Eczema Slowly is non-profit. It gets half a million views until today because the content is real and works. I've set this price to cover the operational expenses since 2013. Anything extra goes to future development (e.g. diet-tracking app using robo-advising telling you what you should eat at what point, wouldn't that be useful?).
Enter your discount code (if you have) for Digital Copy below:
Note: Please use the box above to enter the discount code to let PayPal know! The link below (Digital Copy) is for people without a discount!
Click this link to purchase your copy of The Eczema Manual (Digital Copy) today.
Click this link to purchase your copy of The Eczema Manual (Hard Copy) today.
Email me if you have any questions.
Note: If you are an existing subscriber, you will receive a discount coupon for 40% off. It works for five days. So hurry up before it expires. If you're not an existing subscriber, share this launch with a friend (tag me if on Facebook), email me and I'll send you the coupon code. The discount is for digital copy only.
20 Comments
Jeffrey G

01/09/2017 (02:07)

Thanks for the amount of hard work and dedication you have put into creating a book that will change many of our lives! I will be purchasing the book as soon as possible.

Harrison Li

01/09/2017 (11:59)

Thank you Jeffrey. Really appreciate your comments 🙂

Hasan

15/09/2017 (13:50)

Hey harrison am new to all this have you got an email address i can contact you on

Harrison Li

25/10/2017 (17:53)

Hi Hasan, I use the same email I send you subscriber emails from!

Patsy Ghysels

01/09/2017 (02:47)

Over 50 years and need it gone!

Harrison Li

01/09/2017 (11:59)

Let's get it over with! (Slowly)

Spartan Trident

01/09/2017 (07:42)

What kept you motivated after all these years? How did you keep going? Because usually people get tired after awhile, especially with all the research. Have you ever gotten to a breaking point when you wanted to throwaway everything? Or did you just keep going?

Harrison Li

01/09/2017 (12:04)

Hi Spartan? (Nice name). I think you're hitting the golden question. Thank you for asking. I've procrastinated long indeed. Here's a summary:
1. This version of the book is actually my 3rd or 4th rewrite of the entire book. I just couldn't get hold of the voice (scientific, super layman, third person POV)?
2. I had deadlines. I let my close friends know about my plan so I had to be accountable.
3. Walking by people (esp in HK) seeing them itch their skins, whether young or old, is really sad deep in the heart (another form of butterflies if you get me). It's just hard to live with eczema and I hate to someone with it.

Cheers and have a good day!

Dario

01/09/2017 (16:55)

Hi Harrison, I've been following you for more than a year and I can see your effort and dedication to our condition. I'm personally allergic to cows milk and egg proteins, so even more difficult. I've found the macrobiotic diet quite effective but it's too difficult to follow and have a normal social life.
Just bought your book. You have all my support.
Keep doing a good job and joining us together

Harrison Li

02/09/2017 (14:42)

Hi Dario. Thank you for your unyielding support. I'm glad you can at least find what works for you and it's only until time that eventually you can find a way to adjust with regular social life. Thanks for introducing to macrobiotic diet to me, I never came across that before…
Harrison

Jessica

01/09/2017 (21:00)

Thank you for launching your manual about eczema, although mine is nummular but i will defenitely going to buy your manual because i tried all your advice and i can prove that it really worked and that is all because of your kindness, sincerity and hardwork. More POWER.

Pam

05/09/2017 (09:47)

Your website and email subscription has provided a wealth of information in helping my young son with his severe eczema. I'm so happy you launched a book! I tried using your discount coupon within 5 days to use towards the purchase of the hard copy, but it hasn't been working. Can you assist with this request? I'd love to get the book so my me and my son can read it. Thank you for sharing your story of success in battling eczema.

Harrison Li

10/10/2017 (11:33)

Hi Pam, I've just emailed you! Thank you for your kind words. Glad I can assist.

Andrae Fiellateau

25/09/2017 (08:37)

Hi Harrison,

I ordered a hard copy of the "The Eczema Manual" on the 1st September.

Did you receive my payment?

Any ideas when it will arrive?

Kind Regards

Harrison Li

10/10/2017 (12:08)

Hi Andrae. Sorry for the late reply. I've just emailed you!

Ryu Matsuda

16/11/2017 (17:43)

Your struggles ended up publishing a book LOL
Congrats tho!!

Charls Labarda

08/12/2017 (10:50)

Congrats on getting your experience and this book out! May it help more people deal with this common problem.

Harrison Li

30/12/2017 (12:40)

Thanks Charles! Wish you the best for 2018 ahead!

Mahdi

29/12/2017 (11:44)

Hey long time no speak dude. It's mahdi. I've emailed you. Congrats on the book.