G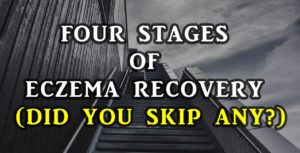 o ahead and "heal" eczema – whatever that means to you.
You probably know "leaky gut" or "paleo." Conventional treatment is misdirected. The key is gut-based solutions backed up by nutritional science.
The problem: we know so many concepts and diets which (probably) work, except we don't pay attention to how our body heals in terms of stages.
Creating questions like:
When EXACTLY will my eczema heal?
How come all you do is conveniently say "it depends"?
Is Paleo, gluten-free, or dairy-free, etc, better?
"I seem to be stuck. It's not improving." Why?
There are four universal stages of eczema recovery. Understanding will stop you from jumping around places – saves you a lot of time and unnecessary suffering.
Continue reading Four Stages of Eczema Recovery (Did You Skip Any?) →