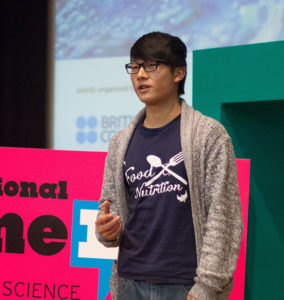 I developed atopic eczema at the age of 6.
It dragged on and disrupted my life day and night. Sleepless nights. Shameful days.
All dermatologists have no solutions, for except, which led me to, become a chronic steroid user. My dosage had spiked from low potency cortisone creams into high potency clobetasol.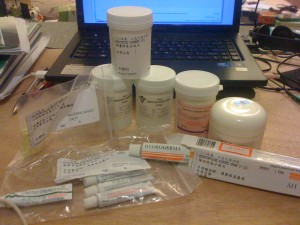 Lotions and mosturizers were a joke. Nothing seemed to work. All the brands failed to live up to their promises.
Traditional Chinese herbal medicine failed me too.
I will not force your pathos by describing the devilish itchiness and bloodiness for the sufferring and embarrasment I have lived through every day since 6 years old.
In 2013, I became a free man. Eczema was gone for the first time in my life.
I was fed up with eczema and started digging up possible solutions to this horror. My synthesis of various ideas culminated into a dietary and healthy lifestyle approach that freed me of eczema in the summer of 2013.
Sadly, the following two years of stressful high school brought my eczema back, although mild, and I'd be able to heal up my body every summer holiday.
Because I understand how eczema works.
My condition today is almost entirely free of eczema, except with few occasional itches if I were to engage in an extended period of unhealthy lifestyle habits.
My Mission (Your Solution)
The dreadful years of eczema convinced me if I could ever overcome this disease, I would spread the message throughout the world that there are ways to heal eczema, and I'd help as many as I can.
My mission is to support any eczema sufferer towards recovery.
Why should you believe me?
I have 12 years of experience dealing with eczema. I deal with a lot of eczema sufferers, anxious mothers of their babies, young children and teenagers, young adults like me, men and women in their 20s, 30s, 40s, and the occasional elderly.
My experience comes from personal knowledge and experimentation, successes and failures from thousands of interactions with patients, understanding through reading books and scientific literature, and the synthesis of ideas throughout the years. In fact, I am even embarking on Nutritional Sciences as my University profession to deepen my knowledge.
Since running Cure Eczema Slowly in 2013, my readership has grown steadily from nothing to 17,000+ readers per month. Part of my success is actionable advice on how to really eliminate eczema, and partly towards the free email consultations I offer to anyone.
Some people were shocked that I didn't push them to buy some eBook to get a solution. Some people even ask me, why don't you charge for your services?
I've had relatively few commitments when I was in school, and when the emails I get were few. Plus, I don't consider myself any expert. So I never charged.
But this is no longer true because I am beginning to realize I really need to charge for help for my time. Tons of emails pour into my inbox and I simply can't help everyone. But as of today (2015 August), I periodically respond to emails and publish free eczema advice. I'm working on a book that will box in the accumulation of knowledge and experience I have acquired over the years on how to recover from eczema. I scrapped my old draft last year because I knew this version will be much more packed with value. So that's a good reason to be a subscriber and get some insider announcements.
Pictures of My Recovery (2013)
Some pictures you might be interested to see in my last recovery days.  I really regret not taking more photos during severe eczema, especially from primary school. It would be good for show. I literally had bloody arms with sticky skin filled with pus and some partially healed scabs that would be scratched broken again before being fully healed.
| | |
| --- | --- |
|   | Left leg crease. It has a rash as you can see and some pretty dry elephant skin. Trust me, it used to be way worse. My skin used to be either a mix of whitish red. Flaky and cracked all the time. |
|   | Right leg crease. It was healing faster than the left but it was still pretty dry so I had to put on petroleum jelly (Vaseline). You can actually see my patch spot from the texture and color difference in the middle. |
|   | First time I went grocery shopping for the restrictive diet. I still bought several wrong things disallowed: yogurt that is artificially sweetened and has food additives, sunflower seeds with added salt and sugar, almonds with added salts. To my surprise, grocery shopping was (and still is) actually quite fun. |
|   | One of my cooked dinners. It may look really plain like a random mixture, but it is full of the healing nutrients I need for recovery. There were: black fungi, potatoes, salmon, cucumber, carrots, spinach, parsley. All water-boiled. No oil added. (2015 Update: I later realized potatoes were nightshades, and peas were leguminous.) |
|   | Experiment of a raw dinner. It was 100% fresh and raw. The juice consisted of: cabbages, apples, lettuce, parsley, carrots, cucumber and maybe banana. Yes, the juice tasted disgusting and I ended up only drinking half (well, eating, because I had to gulp the pulp too) but it was a certainly healthy meal. (2015 Update: I later realized a systemic but not full-on raw diet could facilitate recovery, of course, using actual recipes would be nice.) |
|   | Left arm crease during last recovery days. I still had some scars and a little bit of rashes on the side but as you can see it's not all cracked like it once was with the whole arm. The scaly patches are virtually gone. |
|   | One week after the picture above. There are no rashes at all, only some scars you can still see. (2015 Update: I realize now pictures at these intervals especially during late recovery stages are not that good for comparison because most of the last changes are really just further smoothening and decreasing discoloration, both of which are slow and only occur at the end.) |
|   | I woke up with this minor scratch as you can clearly see my nails' trails. I suspect it was due to the bread I ate the previous day to be precise it had: egg, butter, white flour, yeast, sugar and salt. I thought I could tolerate but really, my body was still healing internally, so this was consequence. |
Testimonials (Blog Comments)
Before I found your blog, I went through some blogs with eczema stories but all ended up only trying to sell their books about Paleo Diet. I was so glad to finally found your blog, I found it simple, open and to the point. I wrote this to say thank you for your work. – Gabriella

thanks man your a good person for doing this, im going through a bad flare up on my face right now, had to leave the university and everything, its been a long and depressing year, it came from no where, but i just found out about these diets and ive been on the strict diet for a week, my face went through that terrible phase of getting worse, but i know its normal, but hopefully this thing will get cured, but i promised myself if i get cured by doing this diet, im going to dedicate my life to help people who have skin problems, its just nice to see someone out there doing the same, good stuff man – Jonathan

Thank you so much for taking time to share all that you have learned. – Lilly

I am so glad to find your blog. I have a 14 year old son who is currently undergoing extreme eczema pain… It would be really encouraging to show him your videos and let him know that there is hope and anyone, just anyone just him can suffer eczema. His is more of a congenital issue, we all know… Thanks a lot for sharing your experience and knowledge here. Unlike all other websites who focused on selling the books, you meant well to impart what you have gone through. – Lim Mun Yee
Grab Your Insider Package (Free) Before You Leave!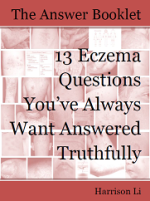 What you get from signing up:
My Crash Course on "5-Step Process To Naturally Eliminate Eczema"
Private content area with 8 articles on eczema (more articles and PDFs coming)
Free PDF download on "13 Eczema Questions You've Always Want Answered Truthfully"
Periodic blog updates on eczema advice you will find nowhere else
100% Privacy. No BS.